The Wire Connection is an authorized stocking distributor of various Mil-spec wire and cable. Military and commercial aerospace wire and cable are applied in many different applications such as communications, aircraft and in-flight entertainment markets, microwave markets, along with many other markets and applications.
Coaxial cables are used as transmission lines for radio frequency, video and data signals. They have traditionally been used as feed lines to connect radio transmitters and receivers with antennas, internet connections, digital audio and cable television signals
Data cables A data cable are any type of media capable of carrying a binary electrical communication signal. Binary data is a series of ones and zeros which are sent as an electrical signal between two locations.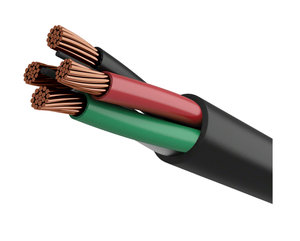 Portable cordage and power cable are used in many different applications such as push-button remote controls, portable industrial machinery and compressors, water purification systems, food processing and wash down, industrial cooling and refrigeration equipment, along with many other various applications.
Building wire is the most frequently specified wiring solution today for commercial and residential construction projects.
Hook-up/lead wire is applied in many different applications such as appliance wiring, transformers, motors, switches, heating/cooling, along with many others various applications.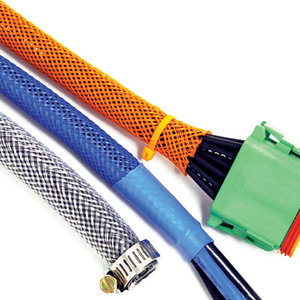 Expandable sleeving is generally used whenever a cable or wire requires additional external protection in tough or hazardous environments. It can be used for everything from marine applications to automotive, electronic, and industrial applications. It may also be used for cable bundling or to add aesthetic appeal.
Heat-shrink tubing is a shrinkable plastic tube used to insulate wires, providing abrasion resistance and environmental protection for stranded and solid wire conductors, connections, joints and terminals in electrical work.